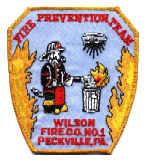 A word from the Fire Prevention Officer

The U.S. has one of the highest fire death rates in the industrialized world. For 2001, exclusive of the events of September 11, the U.S. fire death rate was 13.4 deaths per million population. Between 1992 and 2001, an average of 4,266 Americans lost their lives and another 24,913 were injured annually as the result of fire. These averages do not reflect the events of September 11. Source: United States Fire Administration

In a world full of conveniences

and technology being trapped by fire is one of the last primal fears experienced by humankind. Imagine being separated from your children by the blackness of a smoke filled hallway and knowing that somewhere in that blackness are your loved ones as well as the fire its self. Do you know what to do? Do you know what you should have done before you have a fire? You need to have a plan. You need to have WORKING smoke detectors. When a fire occurs you need to remember to GET OUT and STAY OUT!

Fire safety education has been an ongoing mission of the Wilson Fire Company for over sixty years. I've talked to many older borough citizens who can remember firemen coming to Lincoln School on Brook St. and Number 1 School on Erie St. (the present location of the fire company) and talking to them about fire safety. The point of these assemblies was not to show off shiny red fire apparatus, but to educate. It is my ambition for us to continue this tradition by offering content rich programs that inform as well as maybe be entertaining for children and adults.

The Fire Prevention portion of this web site was designed and is maitained by Tom G Taylor Jr.

Tom G Taylor Jr.
Fire Prevention Officer
tgtaylor@wilsonfireco.com
---
It's important to have an escape plan
What would you do if there were a fire in your home? It's important to get out fast! Never take time to gather up your belongings.
Fires are scary and confusing. They can be loud, burn very fast, and their smoke can make a room or home very dark. It helps to have a plan so you'll know what to do to get out.
A good escape plan can help you get out of your home quickly in case of a fire. The best plans have two ways to get out of each room, in case one way is blocked by the fire you can get out the other way.
You can help your family make an escape plan. Here's how:
Try to find two ways out from every room in your home.

The first way out should be a door. Every way needs to be planned and practiced with grown-ups.

Before opening any door in a fire, feel it first. If it is hot, there may be fire on the other side. Try to get out another way.

Pick a safe and easy-to-remember place outside the home to meet your family after you get out.

After you get out, call 9-1-1 or the fire department

Stay outside no matter what. Don't go back for anything!
---
Smoke Detectors are important for early detection of fires. Smoke detectors are extremely critical to surviving a night time fire. Most fatal home fires occur at night, while people sleep. Never remove batteries from smoke detectors. Smoke detectors are useless if they are not in working order. Test each smoke detector at least monthly.
Where do I install smoke detectors? Detector should be placed on ceiling or if it is impossible mount on the ceiling they can be mounted on a wall 6 to 12 inches from the ceiling . A detector should be installed in every room. This includes bedrooms. Detectors should not be placed near furnace or air conditioner vents.
What if my smoke detector is continually sounding falsely? Look to see what is causing the detector to sound. It could be that your placement is too close to vents, cooking areas, etc. Don't remove the detectors battery, move the detector to a better place.
How do I maintain a smoke detector? Most important make sure that your batteries are changed once a year. Don't remove the batteries because of a nuisance or to use the batteries for something else. To clean the detector follow the manufacturers instructions that come with the detector. Vacuum the detector at least once a year. Vacuuming clears dust and/or bugs that may be in the unit.
For more information on smoke detectors visit the: United States Fire Administration Web Page